>>
>>
>>
Large Tree Stencils Kit
Trees
Large Tree Stencils:
Mural & Park Scene Mural System

Bare Tree Kit
+ Project PDF
+ Mural Design Kit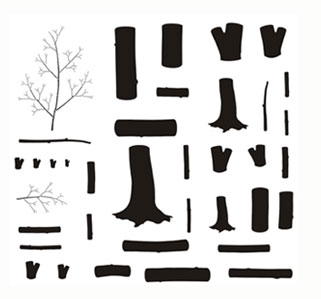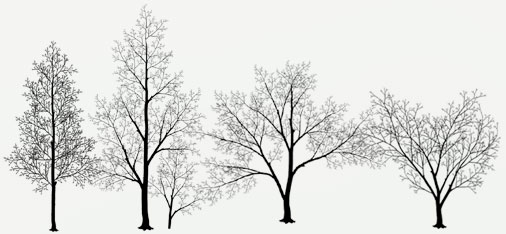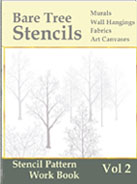 To assist you in planning, visualizing and designing your own tree and park scene murals, we have provided a set of Photoshop layered files. These files contain the individual components of the tree stencil kit and a scaled room wall (14 ft wide by seven feet high), Note: you must have Photoshop to use this component.
Tree Markings
Add texture and extra dimension to your tree trunks and branches with 17 natural bark formations and cracks.
Template Sizes:
From largest 250mm X 68mm (9.8" X 2.7")
To smallest 97mm X 8mm (.8" X .3")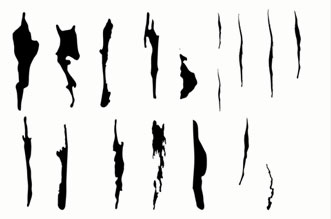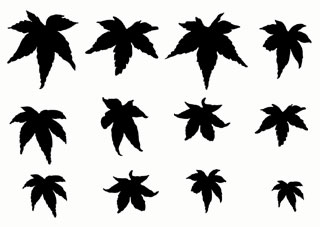 Maple leaves
Twelve maple leaves in assorted sizes.
Template Sizes:
From largest 135mm X 125mm (5.3" X 5")
To smallest 51mm X 51mm (2" X 2")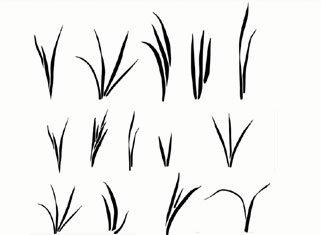 Template Sizes:
From largest 233mm X 41mm (8.6" X 1.6")
To smallest 82mm X 31mm (3.2" X 1.2")
Grass Pack
The grass pack contains 14 grass blade formations.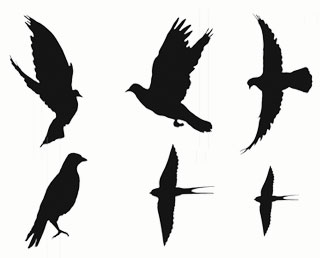 Template Sizes:
From largest 219mm X 120mm (8.6" X 4.7")
To smallest 117mm X 75mm (4.6" X 2.9")


Bird Pack
Use bird life to bring life and movement into your mural creation
The large tree stencils mural system is a life size tree stencil kit is a complete solution for creating stunning wall to wall forests and tranquil park scenes .The basic tree kit contains life size tree branches junctions and tree trunks. This large tree stencil set is designed to yield a virtual wall to wall forest and can be use to create unlimited tree mural designs.
Each branch stencil in the sequence is designed to join seamlessly into the next, making dozens of unique branch profiles possible.The kit allows you to create trees from 3 feet and up to 15 feet high.
Add tree markings, leaves, grasses or birds to build your mural into a complete forest or park scene.
Mural Design-Kit (Included)
With this Tree kit you receive the project ebook PDF that shows you how to use and construct a variety of tree formations. It also contains the printable templates for all of the tree stencil components.
Stencil Image Size:
Overlay's:
Price:
Tree Stencils Vol 2
The kit allows you to create trees from 3 feet and up to 15 feet high.
Made from laser cut 127 micron (5mil) Mylar film. Solvent proof.
Single
International Customers :
Shipping prices are for AU desitnations only. Please Contact us for shipping prices to your region.
Tree Kit



© youstencil.com.au 2010
All YouStencil designs are protected by
international copyright laws.